What is Resistance?
Resistance, also referred to as electrical resistance or ohmic resistance, is a unit of measurement for the force opposing current flow in an electrical circuit. It is represented by "Ω"
The greater the resistance, the higher the obstruction to the flow of current.
When the potential difference is introduced to a conductor, the current begins to flow or the free electrons begin to move. The conductor's atoms and molecules are struck by the free electrons while they are traveling.
Electron or electric current passage is slowed down by impact or obstruction. Therefore, we can infer that there is some resistance to the flow of electrons or current. Thus, the opposition a substance provides to the flow of electric current is referred to as resistance.
For the resistance of a "conducting" material:
The length of the material is directly proportional
The material's cross-sectional area is inversely proportional to the force.
It varies according to the material's nature.
The temperature affects it.
Mathematically, the resistance of a conducting material can be expressed as:
R=ρl/a
where:
l = the length of the conductor, measured in meters
a = the cross-sectional area, measured in square meters
ρ (Greek: rho) = the electrical resistivity (also called specific electrical resistance) of the material, measured in ohm · meter.
For practical reasons, almost any connection to a real conductor will almost certainly mean the current density is not totally uniform. However, this formula still provides a good approximation for long thin conductors such as wires.
PDFs / Technicals
Current Resistance and DC Circuits
Symbols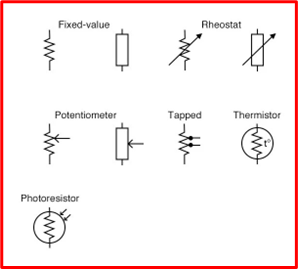 Ohm's Law
George Ohm discovered that, at a constant temperature, the electrical current passing through a fixed linear resistance is inversely proportional to the resistance as well as directly proportional to the voltage put across it. Ohm's Law is based on this relationship between voltage, current, and resistance, which is illustrated below.

Using Ohm's Law, it can then be observed that a voltage of 1V applied to a resistor of 1 will result in a current of 1A flowing, and the larger the resistance value, the less current will flow for a given applied voltage. Any electrical device or component that abides by "Ohm's Law," such as resistors or cables, is referred to as "ohmic" in nature. Devices that do not, such as transistors or diodes, are referred to as being "non-ohmic."
Continued Learning: Ohms Law: Understanding Electric Power Circuits
Types Of Resistors
The two basic types of resistors are:
Linear Resistors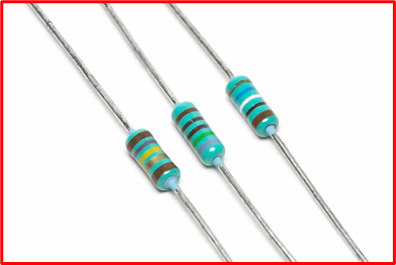 Linear resistors are those whose values fluctuate in response to applied temperature and voltage. They come in two forms:
Fixed resistors
These resistors are fixed at a particular value that cannot be altered. The various varieties of fixed resistors are as follows: Carbon composition resistors, Wire wound resistors, thin film resistors, and thick film resistors.
Variable resistors
These resistors don't have a fixed value, and a dial, knob, or screw can be used to modify them. These resistors are used in radio receivers to regulate tone and volume. The various varieties of variable resistors are potentiometers, rheostats, and trimmers.
Non-linear Resistor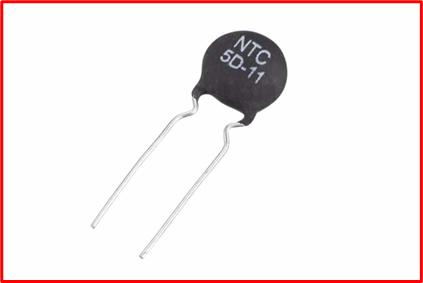 In this type of resistor, ohm's law is not a factor; the values of the resistors vary with temperature and applied voltage. The numerous varieties of non-linear resistors are thermistors, varistors, photoresistors
Differences Between AC Resistance And DC Resistance
AC Resistance
Electrical impedance is a measurement of the overall resistance an AC circuit or a part of an AC circuit provides to electric current. Impedance includes resistance, inductive reactance, and capacitive reactance. Hence, impedance is also referred to as AC resistance.
Resistance = Impedance i.e R = Z
The formula below gives the value of the impedance of the AC circuit or AC resistance:

DC Resistance
In the DC circuit, capacitive reactance and inductive reactance are zero. Since the magnitude of DC is constant, that is,  there is no frequency in DC circuits. Therefore, when a conductor or wire is exposed to a DC source, just the resistance value of the conductor or wire is relevant.
So, therefore, using Ohm's Law, we can determine the DC resistance value.

The AC resistance is more than the DC resistance because of the AC non-uniform distribution and concentration at the conductor's surface, which causes a reduction in the effective cross-section area and an increase in resistance.
Resistor Applications
Common applications and uses for resistors:
Applications for wire wound resistors include shunt with ampere meters, which calls for accurate measurement, high sensitivity, and balanced current regulation.
Photoresistors are used in a variety of products, including photography equipment, burglar alarms, and flame detectors.
Voltmeters and temperatures are controlled by resistors
Resistors are employed in oscillators, amplifiers, communications, and digital multimeters.
They are also employed in transmitters, demodulators, and modulators.
Useful Resources
Continued learning:
Contactors vs Relays: How Do They Work?
Brake Rectifiers and Reactors Explained
Brake Choppers: A Detailed Overview
Three Phase Power Explained: What is 3 Phase?