Types of Fuses: A Deep Dive
Fuses are the safety mechanisms that are used to protect electronics from damage caused by high voltage spikes, shorts, and over currents.
When an electrical circuit experiences a strong current or an excessive current flow, the fuse, which is formed of a thin strip or strand of metal, melts, opening the circuit and being cut off from the power source.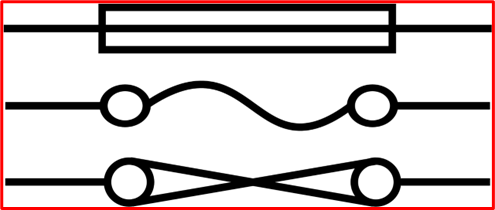 How Fuses Work
The theory behind how fuses operate is that: current has a heating impact.
A fuse is constructed of a noncombustible substance and a thin metallic strip or strand. Between the terminals' ends, this metallic strip is connected.
The electrical circuit and the fuse are always connected in series.
Due to the element's low melting point, the fuse melts when an excessive amount of current or heat is generated as a result of heavy current flows in the circuit, opening the circuit. An excessive flow might cause the wire to break down and halt the current flow.
The fuse can be changed out for a new one with the necessary ratings. Zinc, copper, silver, and aluminum are just a few examples of the elements that can be used to make fuses.
They also serve as a circuit breaker (symbols below), which is utilized to shut off the circuit when a sudden fault develops in it. This serves as both a protector and a safety precaution to shield people from potential dangers.
Top 4 Amazon resources for understanding overcurrent protection:
Electric Power Distribution Handbook
Electric Fuses: (Energy Engineering)
Want to skip the reading? This explainer video is for you:
Types Of Fuses
DC Fuses
The size of the DC fuse is typically larger than its AC counterpart. Since the DC supply has a constant value above 0V, it is difficult to forget to turn off the circuit, and there is a potential that melted wires could spark an electric arc. To counteract this, electrodes are positioned farther apart.
AC Fuses
The size of the AC fuse is usually smaller. They oscillate between the range of 50–60 times per second. Therefore, the possibility of an arc between the melted wires is greatly reduced.
Fuses can be grouped into two types namely, Lower-Voltage fuse and High-Voltage fuse
Lower-Voltage Fuses
Cartridge-Type Fuses
These fuses have completely closed containers and a metal contact These types of fuses are of two types: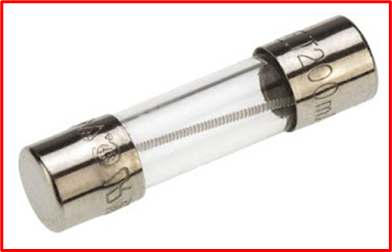 D- Type cartridge fuses
In the D-type cartridge fuses, cartridge, fuse base, cap, and adapter ring make up its structure. The fuse cap is attached to the fuse base through an adapter ring and is equipped with the fuse element with a cartridge. When the cartridge's tip makes physical contact with a conductor, the circuit is complete.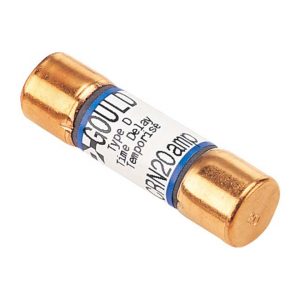 High Rupturing Capacity (HRC) Fuses
In this kind of fuse, the flow of electricity via the fuse element is provided under normal circumstances. We utilize a fuse made of porcelain, silver, and ceramic to control the arc that a blown fuse produces. Silica sand was placed into the fuse element container.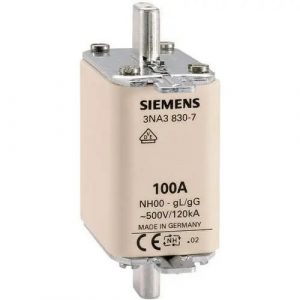 Rewireable-Type Fuses
The main benefit of this type of fuse is that the fuse carrier may be removed more easily without risking electrical shock or other harm. The fuse element is held in place by the fuse carrier, which is made of tin, copper, aluminum, lead, etc. The fuse base, which is made of porcelain, serves as an incoming and outgoing terminal. This is employed in household wiring and other small industries.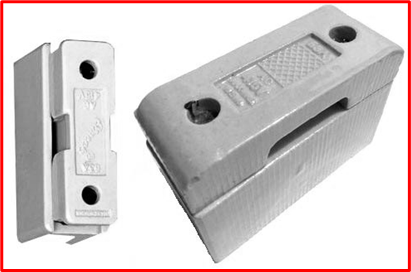 High-Voltage Fuses
When voltage is between 1.5 Kv and 138 Kv, all kinds of high-voltage fuses are used. Transformers are protected by high-voltage fuses.
They come in three different categories, and they include:
Cartridge-Type HRC Fuses
Although it is identical to the low-voltage kind, several of the design elements are different.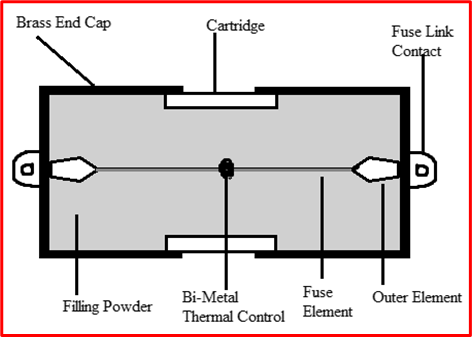 Liquid-Type HRC Fuses
These are utilized in circuits with rated currents up to 100A and systems up to 132Kv. The glass tube of these fuses is filled with carbon tetrachloride. Phosphor bronze wire is used to secure one end of the tube to the other packed end. When the fuse operates, the liquid inside extinguishes the arc. The short circuit capacity is raised as a result.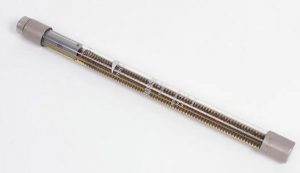 Expulsion-Type HRC Fuses
It is the escapable fuse, in which internal arcing-produced gases are expelled. This allows gas evacuation by filling the fuse link chamber with boric acid.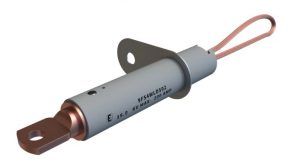 To Summarize:
The fuse is a safety device that interrupts current flow to prevent an explosion or excessive heat from being produced by a fault. In the event of an overload, a properly fused circuit won't overheat till the fuse melts.
Useful Resources
Understanding Step Up and Step Down Transformers
Fault Interrupters: AFCI vs GFCI
The Difference Between an Alternator vs Generator
FAQs
What are the benefits of AC motors?
AC motors are more efficient than DC motors and can operate at higher speeds. Additionally, AC motors are less likely to overheat than DC motors and can be used in a variety of applications. Read more..
What is alternating current?
Alternating current (AC) is an electric current that reverses direction periodically. This means that the voltage of an AC signal also reverses direction periodically.
The frequency of an AC signal is the number of times per second that the current or voltage reverses direction. Read more..
What is a rectifier?
A rectifier is an electrical device that converts alternating current (AC), which periodically reverses direction, to direct current (DC), which flows in only one direction. The process is known as rectification. Read more..