What is Direct Current (DC)?
Direct current (DC) is an electric current that flows in only one direction. It is produced by batteries, fuel cells, and solar panels, and it is used in most electronic devices. We will use a simple DC power circuit and practical use cases to better explain this.
DC is the standard form of electricity used in most electronic devices, as it is more efficient than AC at powering small electronic components. DC can also be converted from AC using a device called a rectifier. DC circuits are typically simpler than AC circuits, and they are less likely to experience interference from outside sources. As a result, DC is the preferred choice for powering sensitive electronic equipment.
How is Direct Current Generated?
DC can be generated in a number of ways, but the most common method is by using a DC generator. A DC generator consists of a rotating loop of wire that is passed through a magnetic field. As the wire rotates, it produces an electric current. The magnitude of the current depends on the speed of the rotation and the strength of the magnetic field.
Another way to generate DC is by using a rectifier. A rectifier is an electrical device that converts alternating current (AC) into DC. AC is the kind of current produced by power plants and used in homes and businesses. However, AC contains both positive and negative charge carriers, whereas DC contains only one type. As a result, rectifiers are used to convert AC into DC so that it can be used in electronic circuits. This can be seen in the two images below:

or..

Finally, DC can also be generated by chemical reactions, such as those that occur in batteries. In a battery, chemicals interact to produce an electric current that flows in one direction. Batteries are often used to power small electronic devices, such as watches and calculators.
Formulas
The formula for DC power is:
P = V * I
where P is the power in watts, V is the voltage in volts, and I is the current in amperes.
This formula is based on Ohm's law, which states that the power in an electrical circuit is equal to the voltage multiplied by the current. In other words, the power is the rate at which energy is being transferred in the circuit. The formula is useful for determining the power consumption of electrical devices and for designing electrical systems.
It's important to note that this formula only applies to DC circuits, where the voltage and current are constant and do not change with time. For AC circuits, the power formula is more complex and takes into account the phase angle between the voltage and current waveforms.
See also Ohms Law: Understanding Electric Power Circuits
Applications
Batteries
A battery contains one or more cells, each of which contains two electrodes (usually made of metal) and a corrosive electrolyte. When the battery is connected to an electrical circuit, the electrodes begin to react with the electrolyte, creating an electrical current. This reaction also creates heat, which is why batteries tend to feel warm when they are being used. As the reaction proceeds, the electrodes gradually break down and become less effective at producing an electrical current. Eventually, the battery will need to be replaced.
Solar Cells
Solar cells are devices that convert sunlight into electricity. They are made of special materials called semiconductors, such as silicon. When light strikes the cell, it creates an electric field across the layers of silicon. The electric field causes electrons to flow through the material to create an electric current. Solar cells are usually combined into larger units called modules or panels.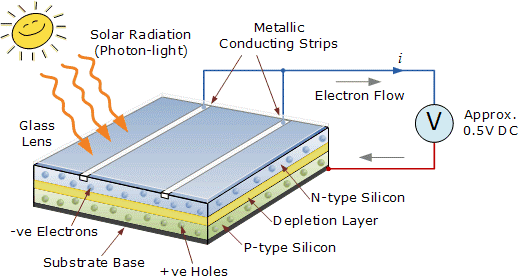 Welding
There are two types of electric current that can be used for welding: direct current (DC) and alternating current (AC). DC welding is the most common type of welding, and it uses a constant flow of electricity to generate heat.
When using DC power for welding, the positive and negative electrodes can be swapped to reverse the direction of the current. This gives welders more control over the welding process, making it easier to produce high-quality welds.

PDFs / Technicals
Fundamentals of DC Circuits (PDF)
Direct Current Circuits l (PDF)
Useful Resources
Related:  What Is AC Power: Alternating Current
FAQ:
What is the difference between AC and DC current?
AC (Alternating Current) and DC (Direct Current) are two types of electrical currents. The main difference between AC and DC is the direction of flow of electrons. In AC, the electrons keep changing direction, while in DC the electrons flow in one direction only. AC is used to transmit electricity over long distances while DC is used in batteries and electronic devices.
Does DC flow from negative to positive?
Yes, DC (Direct Current) flows from negative to positive. In a DC circuit, the electrons flow in one direction, from the negative terminal to the positive terminal, creating a steady flow of electric current. This is in contrast to AC (Alternating Current), where the direction of the current constantly changes.
Why do we use DC instead of AC?
DC is used in electronic devices and batteries because it flows in a single direction, which makes it easier to control and use for specific purposes. DC is also used in welding, electroplating, and other industrial processes where a constant flow of electricity is required.
Why is DC not used in homes?
DC is not used in homes because it is more difficult and expensive to generate and distribute than AC. AC can be easily transformed into different voltages and can be transmitted over long distances with minimal losses. In contrast, DC needs to be converted into AC before it can be distributed, making it less efficient and more expensive.
How do I know if my wire is AC or DC?
way to tell the difference between AC and DC is to observe the waveform. AC voltage has a sine wave shape, while DC voltage is a straight line. However, it's always recommended to use a multimeter to accurately measure the voltage.
Is DC current fatal?
Yes, DC current can be fatal if it passes through the body. DC current can cause muscle contractions, which can make it difficult to let go of the source of the current. This can lead to serious injury or death.