Phase Monitoring Relays or Phase Failure Relays: A phase monitoring relay is designed to detect voltage imbalances, overvoltages, and undervoltages in three-phase electrical systems. The purpose of a phase monitoring relay is to protect equipment from damage due to irregular power supply by disconnecting the load when an anomaly is detected.
In motor-driven applications, relays are used to detect and monitor operational parameters like temperature, current, or voltage. They also protect the motor and any attached equipment in the event of a malfunction or abnormal operating state.
Not only can voltage monitoring relays spot under and over-voltages, but they can also pick up on problems with the voltage itself, like phase imbalances, phase loss, and phase sequence.
Voltage monitoring relays are developed for either single-phase or three-phase systems. Relays employed in a three-phase system are referred to as phase monitoring relays
Phase Monitoring Relays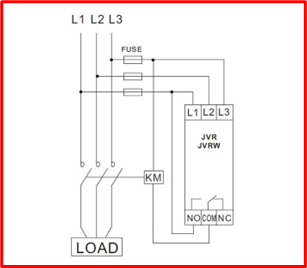 A three-phase monitoring relay operates by continuously monitoring the voltages of the system's three phases. The equipment will be disconnected from the power source if any of the phases deviate from the permissible range, tripping the relay.
Depending on the system requirements, the predetermined voltage ranges that will trigger the relay can be modified. For instance, you may program the phase relay to trip if one or more of the phases exceeds 110% of the nominal voltage or falls below 90% of the normal voltage.
It is possible to configure the phase monitoring relay to trip if any two phases' phase differences surpass a specific threshold. This aids in avoiding phase imbalance harm.
The relay may transmit a signal to an alarm or control panel when it trips to alert people to the issue.
Functions of a Three Phase Monitoring Relay (3-phase)
When a system's voltage surpasses the highest voltage that its hardware can take, it is known as overvoltage. Power outages and equipment damage may result from this. Overvoltage is avoided by the phase voltage monitoring mechanism, which trips if any of the phases exceed the predetermined maximum voltage.
To Determine Undervoltage
In order to avoid damage from Undervoltage, the three-phase voltage monitor trips if any of the phases fall below the predetermined minimum voltage. When a system's voltage falls below the amount required to power the equipment, it can lead to an Undervoltage condition.
To Protect from Phase Unbalance
A three-phase system may experience a phase imbalance if one of the phases isn't functioning properly. Equipment damage and power outages may result from this. Phase imbalance is avoided by a three-phase voltage monitoring relay that trips if any two phases' phase differences surpass a predetermined threshold.
A motor may not start or may stall if it is operated in a three-phase system if one of the phases is missing. Such circumstances may overload the motor, which could result in damage. Using a three-phase voltage meter, you can avoid that.
To Protect Phase Sequence
Incorrect phase sequences can lead to a variety of issues, including motor loads rotating the wrong way. Installing a phase voltage monitor can help to prevent this by tripping if the phase sequence is improper.
PDFs / Technicals
Protective Phase Failure Relays
Applications
Many different sectors and applications use the 3-phase voltage monitoring device. Typical instances are:
Industrial Machinery
HVAC programs
Compressed air and pumps
Motors and power plants
Solar power systems.
Selecting The Correct Phase Monitor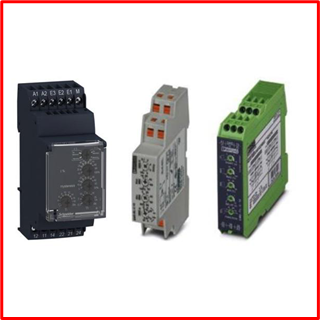 The following guidelines will help in selecting an ideal phase monitoring relay.
You must be aware of the supplies that are present. Either 3 Phase 3 wire or 3 Phase 4 wire may be present. A 4-wire device will measure Phase to Neutral and also have a single phase rating, such as 230Vac or 240Vac, as opposed to a 3-wire Phase Failure Relay, which will measure Phase to Phase and hence have a higher voltage measurement, such as 400 Vac or 415Vac.
Next, you must determine how many output relays you require. Typically, outputs with a single or double pole change-over are found. Slave relays can be used if you require more.
Lastly, you need to understand what monitoring features you require. Phase loss is o standard feature, but you can typically get the rest as an option.
Useful Resources
Continued learning..
Control Systems: Open Loop vs Closed Loop
Dead Shorts, Short Circuits and Ground Faults
Wire Connectors: Sizes, Types, and Charts