Wire Connectors
A wire connector, or wire nut as it is often called, is a cap used to connect two electrical wires together. With the help of this connector, live wires are kept from being exposed or coming into contact with metal surfaces, where they might cause short circuits or other serious damage.
In the world of smaller electronics and circuits, electrical connectors play a crucial role in the operation of many devices and components because they allow and safeguard the transmission of electrical signals.
The tasks they perform and the applications they support range from connecting cables in our cars to connecting essential computer components. Although the connections appear simple, they often help form complex electrical networks of cables.
Cable connectors come in a variety of colors, materials, shapes, and sizes. Some of the most popular cable connectors are the twist-on, push-in, and crimp-on types.
Types Of Wire Connectors
Twist-On Wire Connectors
These are normally twisted on by hand and have external grooves or wings for easy handling. Twist-on connectors are usually color-coded to indicate their size or capacity. They are easy to twist on and off when needed and are commonly used in electrical wiring systems for light switches, ceiling fans, receptacles or outlets, security systems, HVAC, and more.
Push-In Wire Connectors
As the name suggests, the connection is made by pushing the wire into the connector until it snaps into place.
The push-in connector usually has a transparent cover that lets you see if the connection is secure. In addition, the transparent housing makes it easy to identify loose joints during repairs and, thanks to their small size, they fit easily into junction boxes and small enclosures.
Crimp-On Wire Connectors
Usually made of steel or copper, crimp-on wire connectors require a crimping tool to make proper connections. The crimp-on connection is permanent because these connectors are crimped firmly in place. The crimp terminals must be completely disconnected with wire cutters if any wiring modifications are necessary or if they need to be taken out.
PDFs / Technicals
IDEAL Wire Connector Brochure and Sizing
Electrical Wire Connectors and Tools – 3M
Wire-Nut Wire Connectors – WESCO
Recommended Tools
Wire Nut Sizing Charts
The wire nut size charts below will direct you to manufacturer specific guidelines (By wire nut color and sizing)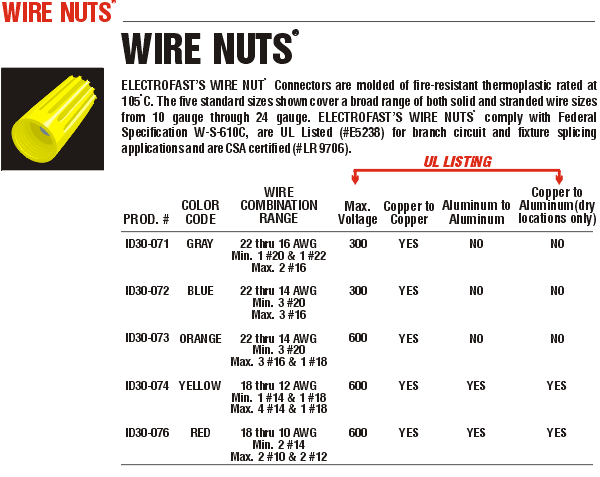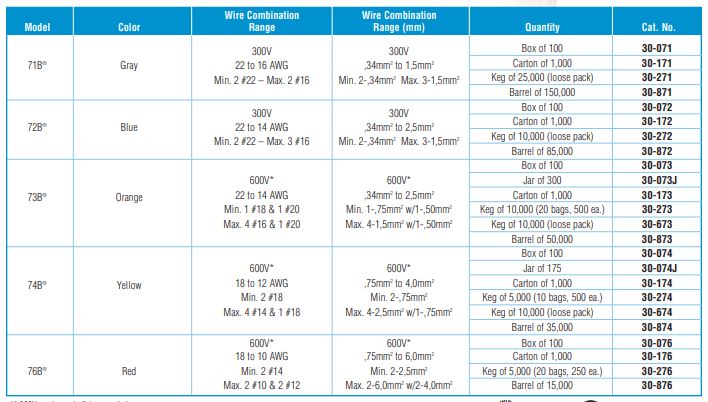 Connector Circuit Symbols
Connectors are represented in the schematic circuit diagrams of electronic circuit designs in a number of ways.
Normally the symbols are quite obvious, but they are dependent on the actual system used, and the notations used for the connector circuit symbols may vary slightly.
In addition to the basic contact symbols used for the connections themselves, the overall connector circuit symbol is often bounded by a line or box to show that the connections are all within the same connector package.
Depending on the termination ends, electrical connectors can be divided into three categories:
Connector Categories (Electronics)
Board-to-board connectors
Cable or wire-to-cable connectors
Cable or wire-to-board connectors
Board-To-Board Connectors
Board-to-board connections are used to connect printed circuit boards (PCB) without using wires. Due to their ability to reduce cable clutter, board-to-board connectors are perfect for systems with limited space.
Cable Or Wire-To-Wire Connectors
To connect two wire-terminated connectors, wire-to-wire connections are used. They are used to connect electrical, electronic, and computer components. Some general requirements for a wire-to-wire connector are the number of circuits or places, mating combination, wire size or gender.
Male wire-to-wire connectors are designed to fit inside female wire-to-wire connectors. A wire-to-wire connector typically has between one and fifty circuits or locations. American wire gauge (AWG), a non-ferrous wire conductor size standard, is commonly used to measure wire size. The diameter of the wire is referred to as a "gauge," and as the gauge number increases, the diameter, temperature range, and gauge number all decrease. Thicker wire often conducts more current due to lower electrical resistance per length.
Wire Or Cable-To-Board Connectors
Crimp technique is often used in wire-to-board connectors to attach a wire to a printed circuit board (PCB). Once the connector has been crimped to the wire, the contacts or terminals can be inserted into the corresponding housing to complete the interconnection. Wire-to-board connectors are frequently utilized due to their flexibility and dependability.
Useful Resources
Continued learning..
Circuit Breaker Basics: Testing, Types and Ratings
How To Test A Motor With A Megohmmeter
Fluorescent Ballasts: What They Do and How
Electrical Resistance: How It Works
Contactors vs Relays: How Do They Work?
(Video) Types of Connectors
FAQ
How do I know what wire connector to use?
The wire connector you use will depend on the gauge (size) of the wires you are connecting. Each wire connector will have a range of wire sizes that it is designed to work with. You can usually find this information on the packaging or in the product specifications.
What are twist wire connectors called?
Twist wire connectors are also called wire nuts. They are a type of electrical connector that is commonly used to join two or more electrical wires together.
What is the difference between a connector and a splice?
A connector is a device that is used to join two or more electrical wires together. It usually consists of a housing or body that contains one or more metal contacts that the wires are connected to. A splice, on the other hand, is a technique for joining two or more wires together without the use of a connector. This is usually done by stripping the insulation off the wires and twisting them together.
What do the colors mean on wire connectors?
The colors on wire connectors are used to indicate the size of the connector and the number of wires it is designed to hold. In general, red connectors are for larger wires and can hold more wires, while blue connectors are for smaller wires and can hold fewer wires.
Should you put electrical tape around wire nuts?
While it is not strictly necessary to put electrical tape around wire nuts, it can provide an extra level of security and protection. The tape can help to prevent the wire nuts from coming loose or falling off, and can also provide some protection against moisture or other environmental factors. If you do decide to use tape, make sure to use electrical tape and wrap it tightly around the wire nut, but be careful not to cover any of the metal contacts.