What Is a Megohmmeter
An electrical testing device called a Megohmmeter, or Megger as it is more frequently known is made to measure extraordinarily high resistances by generating a DC (direct current) voltage usually between 300 and 15,000 volts.
A megohmmeter generates a high voltage and a low current DC charge to measure resistances frequently found in electric motor winding or cable insulation tests.
The term "Megger or Megger Tester" refers to an instrument used to measure insulation in megohms (MΩ), a unit of measurement for cables, transformers, insulators, etc.
Electrical Megger vs Hand Crank Megger
In practice, there are two options for choosing your megger: Electrical or Hand Crank
The battery-operated or "electrical megger" utilizes batteries to power its internal components to create its testing voltage. Because they are run on batteries, these types of testers are commonly limited to a lower testing voltage whereas the hand crank megger employs just that – a "hand crank" to allow its user to manually generate the required testing voltage needed to perform an insulation test.
Before selecting a megohmmeter, ensure equipment and voltage output is sufficient enough to perform proper testing.
How To Run An Insulation Test On A Motor
Before running an induction motor through a megger test, make sure to do the following safety checks:
The megger leads must first be examined for physical damage.
Ensure megger is working – While the megger is turned on, we can examine the leads' continuity.
Ensure that the test setup wiring is in good order.
Verify the tightness of each connection.
Place insulators around the area where the megger test is being done.
Here are the steps to run an insulation test on a motor:
The stator should be discharged by shorting all of the connections to the ground once the motor has been disconnected from the power source.
Connect the megger leads to the motor body and one terminal of the stator.
Between one phase and the motor body, apply a voltage double the motor's working voltage. Apply a voltage of 880 volts if the motor is rated 440 volts. Testing the older motor at a lower voltage (about 80% of the twice operational voltage) is necessary.
Press the test button on the megger after setting the voltage as directed in step No. 3. The insulating resistance value should be recorded.
If the megger displays a reading of zero, the winding is identified as earth. It should be noted that if the megger value is zero, any one of the stator's three windings could be the earth. The motor stator is set up as a star or delta. Therefore, it is unnecessary to test the Megger value (IR value) at several connection terminal locations.
When the value for insulating resistance is high. The motor winding insulation of a 440-volt motor is considered to be good if the IR value is greater than 1 Mega-ohm.
IMPORTANT: We must connect the winding to ground in order to release the winding's built-up voltage once the motor has undergone a megger test.
PDFs / Technicals
Parts of a Megohmmeter
The diagram below shows a detailed megohmmeter circuit diagram and its parts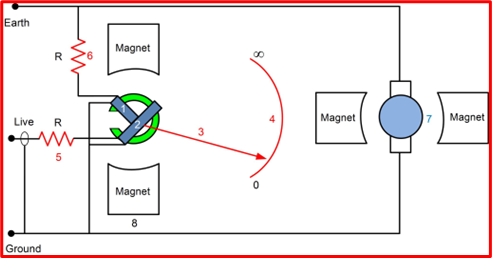 Control Coil
Deflection Coil
Pointer
Scale
Pressure coil
Current coil resistance
DC generator or Battery connection
Permanent Magnets
Importance Of Each Part:
Control And Deflecting Coil
They are normally mounted to one another at a 90-degree angle and connected to the generator in parallel. These coils produce a torque that is in the opposite direction due to their polarities.
Scale And Pointer
A pointer that is attached to the coils moves on a meter scale with a range of "zero" to "infinity." Ohms are used for the scale's calibration.
Resistances Of The Current And Pressure Coils
When the test subject experiences low external resistance, they offer protection against any injury.
Battery Connection Or Direct Current Generator
While a digital type megger uses a battery or voltage charger to supply test voltage, a manually driven megger uses a DC generator.
Permanent Magnets
To deflect the pointer, permanent magnets produce a magnetizing effect.
Measurement Of Insulation Resistance
The Megger value of a motor winding, also known as insulating resistance, is dependent on a number of factors. We are aware that dirt, moisture, corrosion, and environmental factors all reduce the quality of insulation. We must therefore do the megger test on a regular basis.
The image below shows a basic testing procedure for testing insulated wires: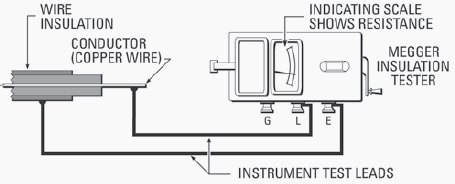 To extend the motor's usable life, it is essential to test the megger value (IR Value) on a regular basis. If recognized beforehand, the motor megger value may be enhanced.
To increase the IR value, the motor winding can be re-varnished using an appropriate insulation substance.
In other words, the motor's lifespan is increased by performing preventive maintenance on it and by measuring the insulating resistance with a megger.
Useful Resources
Continued learning..
Fluorescent Ballasts: What They Do and How
Electrical Resistance: How It Works
Contactors vs Relays: How Do They Work?
Brake Rectifiers and Reactors Explained
Brake Choppers: A Detailed Overview